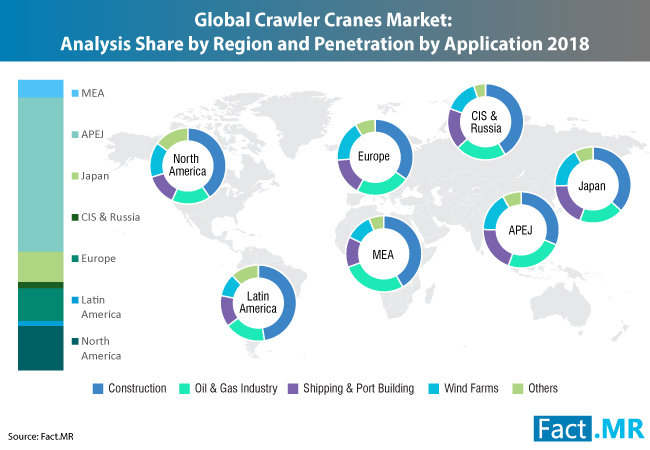 DUBLIN 2, Ireland, 26-Oct-2018 — /EPR INDUSTRIAL NEWS/ — Fact.MR recently announced the launch of its report that provides detailed assessment on the crawler cranes market. A comprehensive analysis has been offered on the key factors that are likely to shape the crawler cranes market's trajectory. The report also profiles key stakeholders in the automotive fuel injectors market, along with assessment on their product portfolio and key developments. Production and sales of crawler cranes have been tracked across key markets including Asia-Pacific excluding Japan (APEJ), North America, Japan and Europe.
Request the sample of the report at https://www.factmr.com/connectus/sample?flag=S&rep_id=2236
Key Takeaways from the Report:
Demand for crawler cranes continues to rise, with sales estimated at over 3,600 units in 2018
Greater China is the largest market for crawler cranes; the region accounted for over 30% of the global crawler crane sales in 2017
Gains are significant in the U.S. and India – collectively, these two markets account for nearly one-fourth volume sales of crawler cranes
Crawler cranes with <150 tons load capacity are the top-selling category; volume growth is likely to be 2X as that of 300-600 tons category
Construction industry accounted for the highest demand for crawler cranes; wind farms are an upcoming avenue
Greater China – The Manufacturing Hub of Crawler Cranes
Crawler crane sales in Greater China are likely to surpass 1,200 units in 2018—this is 2X greater than sales in the second most lucrative market – India. Greater China's position as the largest manufacturing hub for construction machinery continues on an upward spiral, complemented by the Dragon's ascendancy as a global economic powerhouse. While these trends continue to pose significant impact on crawler cranes production and sales in the country, regulatory bodies such as EPD have imposed emission regulations that delay approval of these equipment being sold or leased.
Crawler Cranes Production by Key Countries (Units)
2016 A
2017 A
2018 A
2022 F
2028 F
Greater China
1,160
1,196
1,232
1,407
1,706
India
XX
XX
XX
XX
XX
U.S.
XX
XX
XX
XX
XX
Japan
XX
XX
XX
XX
XX
GCC
XX
XX
XX
XX
XX
To get more information on redacted data, speak to the report authors
"The crawler crane industry in India is at crossroads, as the market has matured in recent years and shed its skepticism on utility of highly advanced machinery. End-users are now willing to invest in premium equipment, thereby providing an impetus to manufacturers to introduce high-tech products," says Mr. Shambhu Nath Jha, Senior Consultant at Fact.MR.
"The transition phase of the construction equipment industry in India alludes a cascading effect on crane rental cost, if there is any slack in demand. However, presence of manufacturers that sell counterfeit products at lower cost continues to pose adverse impacts on productivity, reliability and performance of crawler cranes. This will confine future growth prospects of the industry," concludes Mr. Jha.
The report is available for purchase at https://www.factmr.com/checkout/2236/S
About the Report
Fact.MR's report titled 'Crawler Cranes Market Forecast, Trend Analysis, and Competition Tracking – Global Market Insights 2018-2028," gives a comprehensive analysis on production and sales of crawler cranes across key regions. Prominent trends impacting growth of the crawler cranes market have been identified and analyzed in detail. The study also offers a segmental analysis and forecast on the crawler cranes market.
SOURCE: EuropaWire