Zaber Technologies has recently announced the launch of its T-LSR series of computer controlled motorized linear stages. These stages extend the range of Zaber's line of precision motion control products offering travel up to 300mm with resolution down to 0.25 um. Zaber's fastest and strongest stages, the T-LSR series can handle loads up to 20kg at speeds up to 20mm/s.
Multiple T-LSR stages may be mounted in x-y or x-y-z configurations without any additional hardware.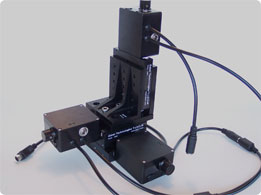 They are also compatible with Zaber's T-LS series of precision motorized ball bearing stages which offer higher resolution over shorter travel.
Integrated motors and controllers allow T-LSR stages to be daisy chained with all other T-series products and controlled from a single USB or RS232 serial port. Demo control software for a variety of programming environments is available for free download from the Zaber website.
A knob at the end of each T-LSR units permits smooth manual control. For manual operation, the stage need not be connected to a computer. However, if connected to a computer, stage position can be tracked and displayed during a manual move. T-LSR stages may also be controlled by Zaber's T-JOY series of programmable 3 axis joysticks.
For more information on the T-LSR and compatible products please visit the links below:
Via EPR Network
More Industrial press releases