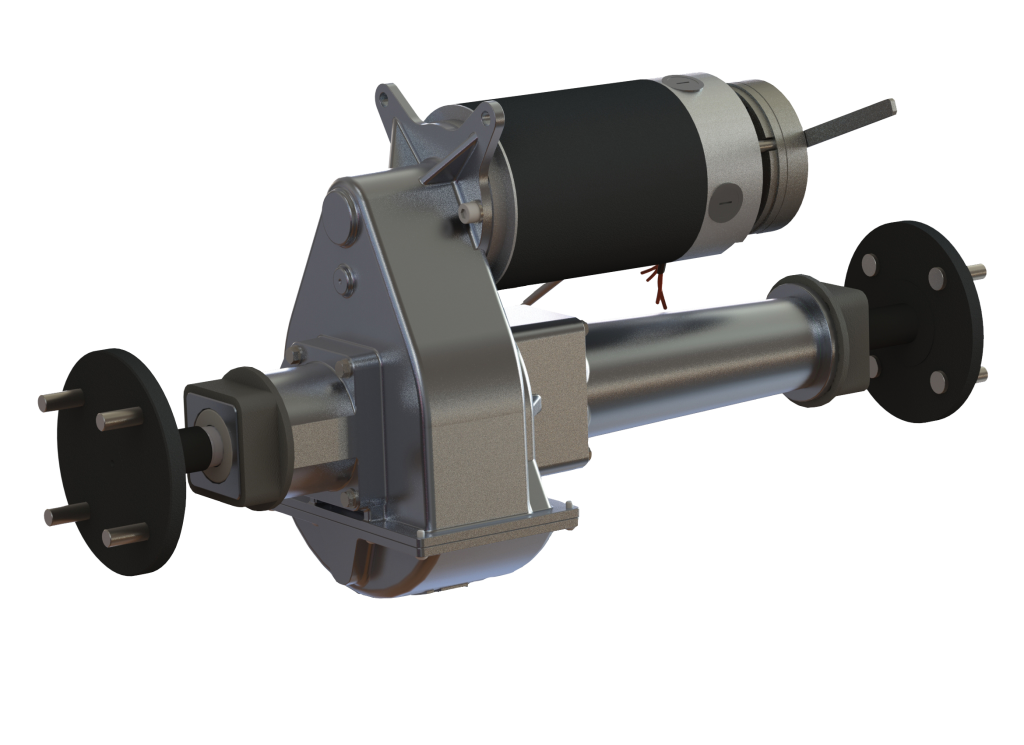 MONTGOMERYVILLE, PA, USA, 10-Oct-2019 — /EPR INDUSTRIAL NEWS/ — ASI Drives introduces the next generation of heavy-duty, fully enclosed transaxles with their Mark 600, set to markedly transform both indoor and outdoor material handling. An evolution of the industry-standard Mark 400, the company designed the new transaxle as a high-performance replacement for applications typically requiring internal combustion engines. The Mark 600 is part of ASI's Viking Transaxle product line.
"The Mark 600 is possible thanks to recent improvements in battery and electronics technology," explains John Cross, ASI Drives' President and CTO. "When combined with our transaxle technology," he goes on, "these improvements allowed us to develop a new transaxle capable of replacing the internal combustion engine in the outdoor material handling market." Other markets include outdoor power equipment and floor care.
High-torque and High-speed Configurations
With a large 70 mm mount, the Mark 600 produces up to 270 Nm of torque at 60 RPM under high load in high-torque configurations. Under typical load, high-speed configurations produce 60 Nm of torque at 119 RPM. This makes it suitable for many applications, from motorized wheelbarrows, plane tuggers and trailer movers to personal scooters, large floor-cleaning machines and more.
The Benefits of Thoughtful Design and Engineering
Distinguishing features of the Mark 600 include: single-piece casting for precision gear alignment and quieter operation; bolt-on tube extensions for multiple widths without retooling; high-strength bevel gear differentials; available robust permanent magnet DC motors; easily replaceable motors and brushes; service intervals exceeding 2,000 hours.
Highly Customizable Feature Set
ASI can configure the Mark 600 to meet the demands of a variety of applications. Reduction ratios range from 24:1 to 36:1. Standard widths range from 237 mm to 596 mm, with custom widths available. Motor options include permanent magnet DC 4-pole and brushless AC and DC motors, available in 122 mm and up to 152 mm diameters, respectively. Voltages range from 12 V to 48 V DC. Axles can be hubs or custom.
To learn more about the about the Mark 600, visit asidrives.com/Mark600. To learn about other solutions by ASI, visit asidrives.com/offerings or call 215-661-1002.
SOURCE: EuropaWire