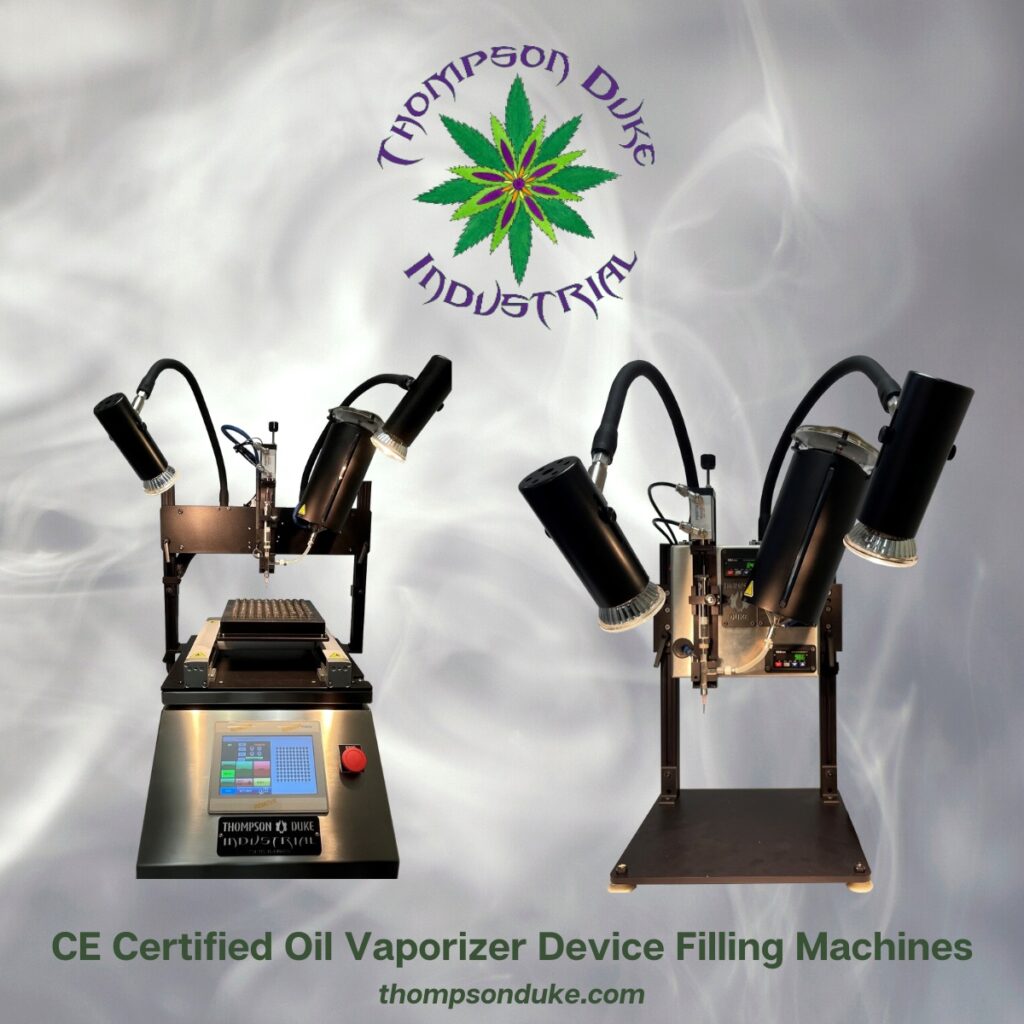 PORTLAND, Ore. United States, 2023-Feb-15 — /EPR  INDUSTRIAL NEWS/ — Thompson Duke Industrial, the leader in cannabis oil vaporizer device filling and capping equipment, announced it has achieved CE certification for its cannabis vape cartridge filling equipment in Europe, including its IZR and MCF line of machines. 
"As the cannabis industry continues to evolve on a global scale, we are seeing a critical need for more efficient manufacturing processes around the world," stated Vlad Valme from Thompson Duke Industrial. "In order to meet this need, specifically across the European market, our team decided to pursue CE certification. Securing this certification validates our machinery, and our compliance with widely accepted product safety standards. It allows us to provide clients in the EU a competitive advantage as the cannabis market grows exponentially in the region."
CE certification is a mandatory requirement governing multiple types of products, set in place and regulated by the European Union. Earning this certification allows Thompson Duke Industrial to freely sell and export machinery throughout the European marketplace.
In order to earn CE certification, manufacturers must have products that meet the regulatory requirements of the European Commission's health, safety and environmental standards. In addition, manufacturers that sell electrical or electronic products must also be in accordance with the Waste Electrical and Electronic Equipment Directive (WEEE) and the Restriction of Hazardous Substances Directive (RoHS) guidelines. Thompson Duke's equipment underwent rigorous independent testing to ensure conformity with all relevant EU-wide requirements in order to earn the CE Marking.
The new certification applies to Thompson Duke's vaporizer device filling machines, which are already GMP-ready and cETLus/CSA Certified and utilize Festo automation and pneumatic industrial-grade components from Germany.
● IZRC automatic filling machine: designed specifically to streamline large-scale, industrial cartridge filling and capping operations using precisely controlled automation to fill cartridges, pods, capsules, syringes and jars directly in manufacturer packaging.
● MCF2C semi-automatic filling machine: now with integrated temperature control, this machine is designed to fill almost any oil vaporizer device available on the market using a lightweight and portable benchtop design for quick and easy setup, operation and cleaning.
Thompson Duke's CE Certification is the latest in a number of certifications for the company, which also holds cETLus and CSA certifications for its machines. In addition, the company adheres to Good Manufacturing Practice (GMP) guidelines and all its equipment is GMP-ready. Looking ahead, the company plans to earn additional certifications to further expand the accessibility of its machinery around the world.
To learn more about the Thompson Duke's newly CE-certified line of machinery, visit https://thompsondukeindustrial.com/3d-flip-book/ce-certified-catalog/.
About Thompson Duke Industrial, LLC
Thompson Duke Industrial, LLC is an original equipment manufacturer, a member of the National Cannabis Industry Association and a wholly owned subsidiary of Portland Engineering, Inc. The company's Portland, Oregon operation designs, manufactures and distributes a line of patented, cETLus Certified, CE Certified and GMP-ready filling machines specifically designed for filling cannabis oil vaporizer devices, along with mouthpiece fastening machines and process performance and reporting data systems. With over 2,000 machines deployed in the cannabis industry, Thompson Duke Industrial is the leader in cannabis oil vaporizer device filling and capping equipment. The complete line of filling and capping machinery enables cannabis processors to be more successful by increasing accuracy, consistency, efficiency and overall throughput of vaporizer device fulfillment operations. https://thompsondukeindustrial.com
SOURCE: EuropaWire